---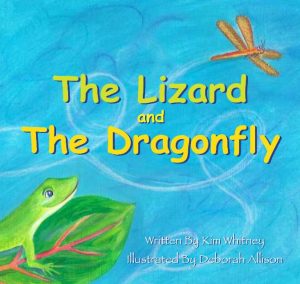 Click here to purchase or read on your Kindle at Amazon.com and help support our cause through the Whitney Family Foundation.
---
This story is an engaging, fun and educational tale about the adventures of a Lizard and a Dragonfly that will unleash children's imagination while teaching them valuable life lessons. In addition, the book is full of fascinating illustrations that will help guide children to exciting new places. As an added bonus, the book contains appendices that include encyclopedic entries for the plants and animals used in the story as well as various behavioral and academic lessons that can be applied to children's everyday life. It is the belief of the creators of this book that these valuable lessons will positively shape young minds.
The author of the book, Kim Whitney, has a Bachelors Degree in Elementary Education and a Masters Degree in Educational Leadership. She has extensive experience in progressive education including being a teacher in elementary education for six years, a learning specialist in a middle school for two years, an assistant principal in elementary education for two years and a principal at an elementary school for eight years. Kim has attended multiple seminars on discipline as well as brain research over the years and has been a guest speaker at educational seminars on the subjects. Kim loves traveling and is enjoying the motherhood adventure. She has combined her love of reading books and going to the beach in authoring this book.
The illustrator of this book, Deborah Allison, studied art in America and abroad. She has a Bachelors of Fine Art Degree in Painting and Graphic Design and a Masters Degree of Art in Design Illustration. For many years, she worked as an art director and designer, but now enjoys painting commissioned artwork and murals. Deborah is inspired by the beauty and energy of nature. Striking colors and unique perspectives are signatures of her work. As a mother of two
boys, Deborah believes in the power of great books and vivid illustrations to develop young minds. To view more art by Deborah Allison, please visit www.deborahallisonart.com.
All profits earned by Milo Productions from the sale of this book will be donated to children's charities through the Whitney Family Foundation – a qualified 501(c)(3) non-profit organization that is dedicated to the betterment of America's children. Please purchase a copy today and help this worthy cause while entertaining and educating a child with this intriguing book.