MILO PRODUCTIONS presents an ALAN M. WHITNEY film
written and produced by ALAN M. WHITNEY directed by MILO
---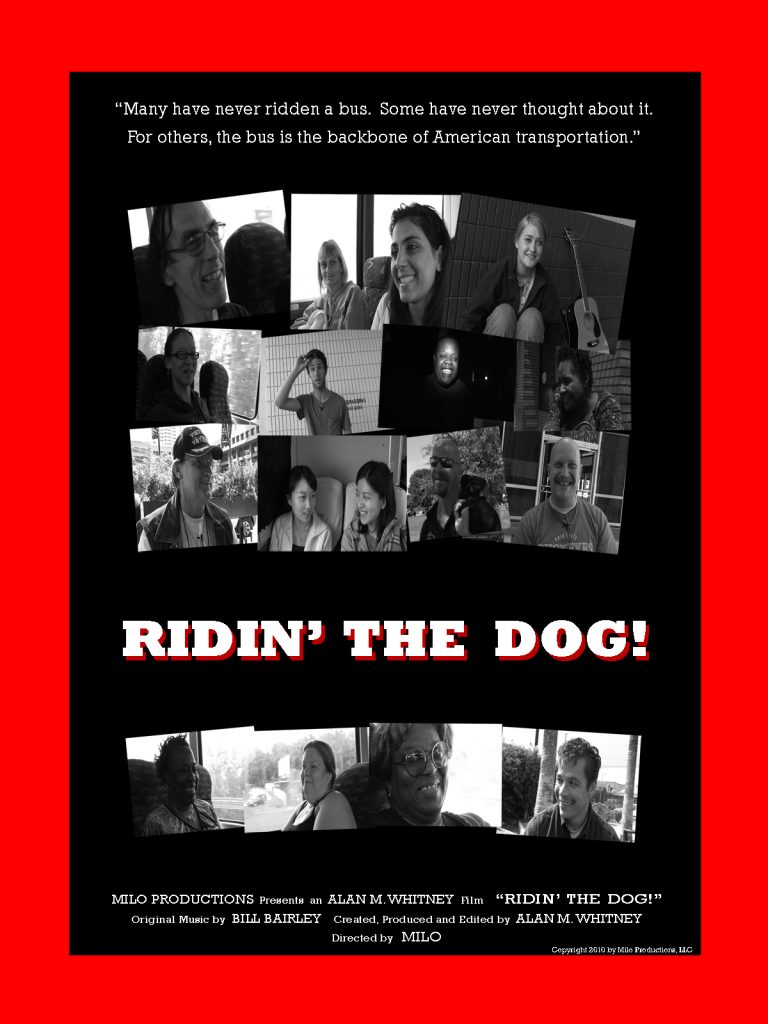 Click here to purchase the film at Amazon.com and help support our cause through the Whitney Family Foundation.
---
Many have never ridden the bus. Some have never thought about it. For others, the bus is the backbone of American transportation. Award winning filmmaker Alan M. Whitney set out across America on the bus to meet these people. The result is the nostalgic film "Ridin' the Dog!" – an unauthorized and uncensored feature documentary that chronicles the stories, opinions and emotions of the riders encountered on the interstate bus system during this recent cross country trip with segments from Miami to Orlando, New Orleans to Houston, San Diego to Los Angeles and Los Angeles to Las Vegas. The riders touch on who they are, their wildest and most memorable experiences on the bus, their views on social issues such as Cuba, Katrina, immigration and Las Vegas and conclude with their message for the world. The film will make you gasp, make you laugh and make you cry as it exposes the full spectrum of subcultures of the regular bus riders from their mutual respect and willingness to help each other to their conquests, exploits and vices.
The film was created, produced and edited by Alan M. Whitney who first got the idea from a cross country bus ride he took from Syracuse to Orlando to attend the film school at the University of Central Florida. The film also showcases original music written by acclaimed musical artist Bill Bairley including the award winning theme song "Roll on Home" whose lyrics were co-written by Mr. Bairley and Mr. Whitney.
Milo Productions has teamed with the Whitney Family Foundation where all profits from the film will be donated to charity through the Whitney Family Foundation. The Whitney Family Foundation is dedicated to the betterment of America's children.